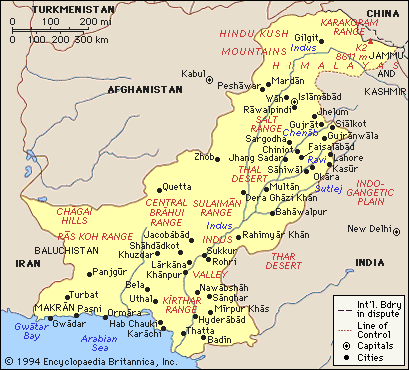 The ethnological background of the population of Pakistan is extremely varied, largely because the country lies in an area that was invaded repeatedly during its long history. The people come from ethnic stocks such as the Dravidian, Indo-Aryan, Greek, Scythian, Hun, Arab, Mongol, Persian, and Afghan.
The population of Pakistan (2001 estimate) is 144,616,639, yielding an average population density of 182 persons per sq km (470 per sq mi). The country's population was increasing in 2001 at a rate of 2.1 percent a year. Only 36 percent of the people live in urban areas.
For administrative purposes, Pakistan is divided into four provinces (Baluchistan, North-West Frontier Province, Punjab, and Sind); Islamabad Capital Territory, which consists of the capital city of Islamabad; and the Federally Administered Tribal Areas. Pakistan also administers the northwestern portion of the disputed territory of Jammu and Kashmir. The Pakistani government is directly responsible for the Northern Areas, while Azad (Free) Kashmir has an autonomous government with strong ties to Pakistan.
The leading religion of Pakistan is Islam, which is the faith of about 97 percent of the people. About four-fifths of the Muslims are Sunnite, and about one-fifth are Shiite. Hinduism and Christianity form the leading minority religions; other religious groups include the Sikhs, the Parsis, and a small number of Buddhists. The constitution defines Pakistan as an Islamic nation, but guarantees freedom of religion.



Pakistan
, officially Islamic Republic of Pakistan, republic in southern Asia, bounded on the north and northwest by Afghanistan, on the northeast by Jammu and Kashmir, on the east and southeast by India, on the south by the Arabian Sea, and on the west by Iran. The status of Jammu and Kashmir is a matter of dispute between India and Pakistan. Until December 1971 Pakistan included the province of East Pakistan; at that time, however, East Pakistan seceded from Pakistan and assumed the name Bangladesh. The area of Pakistan is 796,095 sq km (307,374 sq mi), not including the section of Jammu and Kashmir under its control. The capital of Pakistan is Islamabad; the largest city of the country is Karachi.